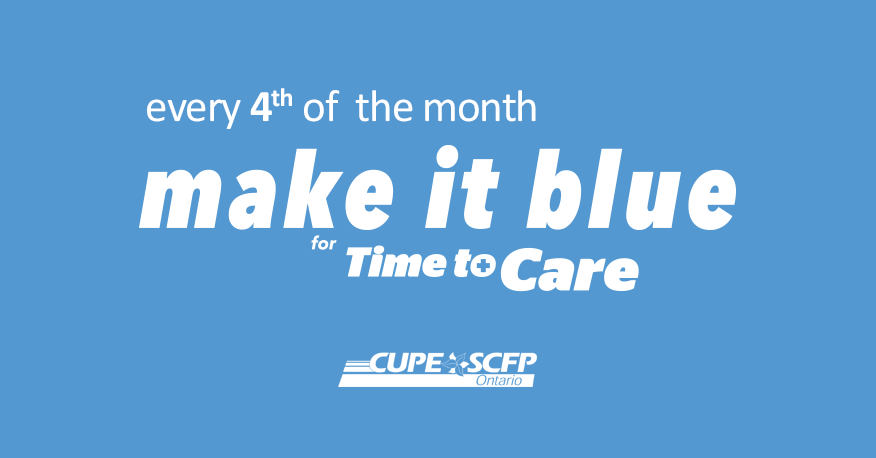 Time to Care –
LONG-TERM CARE
Let's Take Action. Make a long-term care standard for nursing home residents the law.
Since 1992, the complexity of care needs of Ontario's long-term care residents – the majority of who are 85 years of age or older – has increased significantly. 73 per cent of residents have some form of Alzheimer's or dementia and most need help with feeding, bathing, toileting and getting out of bed.
Yet Ontario funds long-term care at a lower level than just about any other Canadian province. The result of provincial underfunding is that there isn't enough staff to provide residents with the care time residents need each day to live with dignity in Ontario nursing homes.
Every 4th Day of the Month
Help raise awareness for a 4-hour daily care standard for long-term care residents. Every 4th day of the month, it's Time to Care day in Ontario and CUPE long-term care workers, supporters and allies will "make it blue."
The #makeitblue day is to:
Raise awareness of the need for a legislated 4-hour daily care standard for residents;
Broaden and strengthen membership and community engagement;
Educate others and build astrongbase;
Reach out and engage others in concrete action.
Show your support on social media: On the 4th of every month, add a filter to your Twitter or Facebook profile picture.
Source: Time to Care – Long-term care